What A KJ Student Concert Is Like
Keith's Story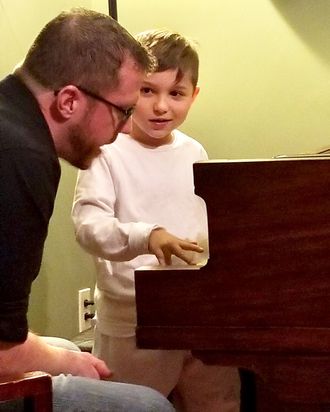 It became apparent from an early age that Keith had a natural bent for music and for the piano in particular. After playing a few tunes by ear, his parents got him some piano lessons but he never really felt at home with the classical approach and was instead drawn to monkeying around with songs that he'd heard. He started teaching in his teens and vowed to give his students what he never had: someone to help them discover and develop their own niche, especially in the vein of more modern music and playing by ear. 
More than two decades later, his methods have paid off and he has solidified himself as the alternative to traditional lessons in the Mohawk Valley. Some of his students have become music teachers and performers themselves and have even won national piano composition competitions. His piano recitals are more like rock concerts and Keith even brings in pro pop/rock musicians to jam with the kids too. Keith also has been known to invite his students up at his own shows and has organized studio-wide field trips to go see national artists in their element for further inspiration.
Some Videos of Keith's Students
Keith at 18 Years Old (on the left)
"

I feel like a 5-year-old kid who walked into a 3-floor toy store for the first time!"
— Matt C. after his first lesson with Keith
"

The best! Extremely patient and kids absolutely love him!!"
— Justin S.
"

My son took lessons from Keith. Great instructor, person and musician!!! Highly Recommend!!!!"
— David G.